Google Cardboard - Cheapest Virtual Reality
What is 'Google Cardboard' ?
Google Cardboard in short is a piece of cardboard fixed with two pieces of specialized lenses. Google laid the future of its tech on Google I/O this year by showcasing its upcoming Android L, Android T.V and Wear. In that process they showcased something totally unexpected and what at that time seemed to be a joke, the Google Cardboard.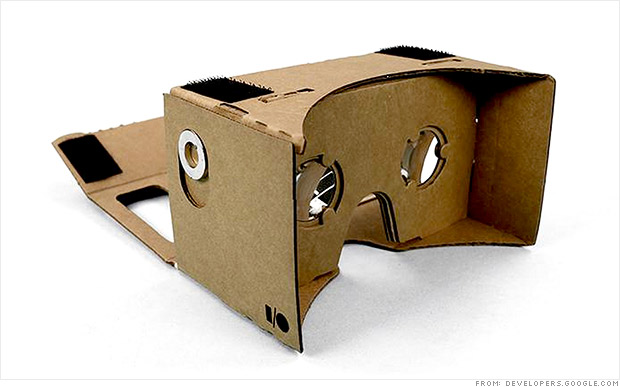 This is Google's inexpensive solution to virtual reality. In short you can use it like virtual reality headset, with your phone running the app in front. Your phone will respond to the movements you make and show different images through the app. That picture when taken through the lenses will give you a 3D feel and a virtual reality experience. App development for virtual reality apps has already begun and they will soon hit the android market to be used with Google Cardboard.
Meanwhile, Google has already launched a demo app for Cardboard. It can be used to check out what the Google Cardboard can actually do. You can get it officially from Google Play for free.
Cardboard should work fine with any android phone running android jellybean (4.1) and above. They should also have NFC support with them. Google also created a list of compatible devices, from which I quote here.
Fully compatible
Google Nexus 4 and 5
Motorola Moto X
Samsung Galaxy S4 and S5
Samsung Galaxy Nexus
Partially compatible
Magnetic input not working

Magnetic input not working & headtracking/rendering issues
How Can I Make One ?
With a wide majority of Android smartphones available in the market, you might not find yours among the compatible list of Google. This list is however partial and contains the names of some mainstream android devices. So if you are running jellybean or above and have nfc, give it a shot.
Building a cardboard will cost you around $2, so it is worth a try. You can head over here to follow Google's instructions on making one.
I am having a hard time finding the right lenses for my cardboard in my country. Buying them from amazon for me raises the price tag a lot. If you are from US or EU, you are pretty much in luck.
Printer Template
Don't use this image for reference but this is what the printer template should look like. (The first page)
Verdict
Cardboard is still in its initial stages but has achieved its sole objective, to provide you with an inexpensive virtual reality experience. As reported by many users, the quality is obviously not near to the actual virtual reality headset, still none of them complain about it. That is because this is achieved through your smartphone. The quality should improve overtime as developers are able to properly manipulate the users movement through mobile sensors. Sensors hence become an even more key component. I guess Samsung devices will have no trouble supporting cardboard due to a whole bunch of sensors in them.
Article Tags
Related Posts