Galaxy S6 - The Good And The Bad
Galaxy S6
By this time you have probably already heard or read a lot about the Galaxy S6. Even if you have not then this article is going to serve you well.
Galaxy S6 is the new born and better brother of the Galaxy S5. It was announced in the first week of March 2015 and is expected to start its sale in mid April.
The good and bad should cover up the specs and help you decide whether if you should buy one the next month. I'll talk about the S6 alone and not the S6 edge, the difference between them is minimal.
The Good
I'm not a Samsung fanboy and my loyalty lies with HTC but I have to admit Samsung have pull up a good phone this time.
The mainstream specs include an octa-core processor, Galaxy S6 uses Samsung's own Exynos chip along with 3gb Ram. Other specs to follow.
Don't get carried away though.
No More Plastic
For me Samsung phones have been "shit" looking for their cheap plastic look. However, Galaxy S6 has ditched the plastic and replaced it with an all metal design.
Moreover, Samsung has also ditched replaceable battery. This might seem a disadvantage to you if you have been a galaxy user before but trust me this brings along a more solid build quality to your phone. If you have get battery issues or need to replace it you can hand it over to your service centre. So ya the only difference is that you won't be able to do it yourself this time.
Gorilla glass 4 protects the phone from back and front.
The Camera
The Galaxy S6 hosts a 16 megapixel camera at the back and a 5 megapixel at the front. Image size is not the catch here.
Samsung have improved their camera by adding in catchy features like a lens upgrade to f/1.9. Optical image stabilization has also been included in the phone which has improved video recording a lot, constantly keeping the object in focus without any delay lag in between.
Selfies have now become a treat. The front camera hosts a wide angle lens and you can take a snap by tapping on the sensor. Samsung have included a new self portrait feature for their rear camera, you can hence take a selfie with your rear camera if you want the best quality.
Gorgeous Display
But the human eye can only see blah blah pixels per inch
Just reminding you what you have to say after reading this. I have always been a fan of Samsung's mobile display and they have it even better. The galaxy s6 hosts a 5.1″ AMOLED display with a resolution of 2560 x 1440, giving you a PPI density of 577. It is the highest one available in the market for now, you may now quote the quotation.
Wireless Charging
Well don't expect an explanation here. Wireless charging is charging your phone without a wire and Samsung is now providing you the ability to do it. Samsung will however sell their own charging pads for it.
They have added a quick charge mode which allows almost 30% of the battery to be charged in almost 30 minutes.
The sealed battery is rated at 2550 mAh. Though it might seem comparatively low in number to the s5, Samsung believes that using the exynos chip along with lollipop optimization is likely to extend battery life.
Highest Benchmark Results
According to many reports and benchmark results, Galaxy S6 stands out to be a beast compared to all other smartphones.
The Bad
To be fairly honest Galaxy S6 is a very good phone. The only thing bad about it for some old galaxy users could be the non removable battery but for me it is something different.
The only bad thing about Galaxy S6 in my opinion would be the fact that it has copied a lot of things from the iPhone 6. Apple users will mock you for using their fingerprint scanner integrated on a home button on the Galaxy S6. The overall design, though good, is inspired from the iPhone 6. It sort of like looks like a chinese replica of the iPhone 6 running android.
I mean can you literally differentiate the two here?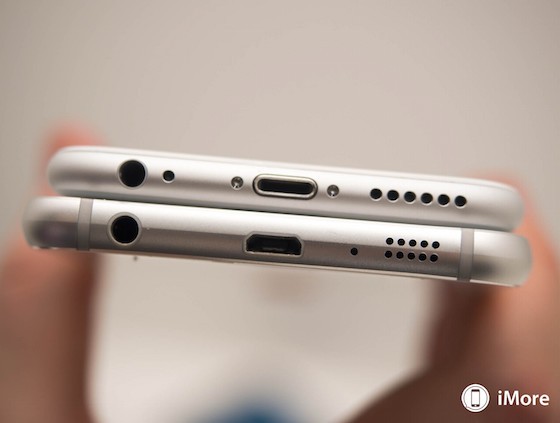 So the point here is that Galaxy S6 should have kept the design unique. That is literally the only thing that bugs me about this phone because other than that it is awesome.
Article Tags
Related Posts